The Bible and Mental Health
What you focus on and how you live your life impacts your physical and mental health. Scripture is not often considered as an antidote to mental health problems, but there are elements within biblical teaching which, if followed, can dramatically improve mental and emotional wellbeing. The old saying is true: "for best results follow the Maker's instructions". So what does the Bible say? You will find Bible verses supporting emotional and mental health here together with a link to a downloadable pdf Bible Study.
MODERN GUIDANCE FOR MENTAL HEALTH WHICH IS SURPRISINGLY CLOSE TO SCRIPTURE
I was reading through "a Mental Health Guide to Coping with Lockdown in the Winter" shared on Facebook by Hannage Brook Medical Centre. The second piece of advice on their list was this: "LIMIT NEWS – Limit the amount of time you spend on social media and checking the news". This resonated with me. We feel as if there's something almost irresponsible about not keeping up with the news, after all, the Bible teaches us to pray for those in authority (l Timothy 2 verse 2), but we can do that quite effectively without avidly following every news update or every online comment. For the sake of our own mental health, we need to take Paul's instructions to the Philippians church seriously. You could call it "God's Whatever".
God's "Whatever"
" … whatever is true, whatever is noble, whatever is right, whatever is pure, whatever is lovely, whatever is admirable – if anything is excellent or praiseworthy – think about such things. Whatever you have learned or received or heard from me, or seen in me – put into practice, and the God of peace will be with you." (Philippians 4 verses 8 and 9)
Much of what we watch or listen to certainly does NOT fit into the above list. Media coverage is very much weighted in the opposite direction in fact. As Christians, many of us need to shift the emphasis of where our attention is focussed. We need to actively appreciate what's good and thank our Heavenly Father for it.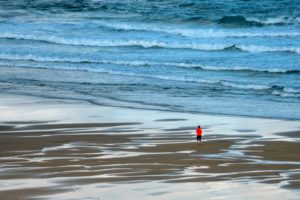 "In everything give thanks, for this is the will of God in Christ Jesus for you". (lThessalonians 5 verse 18)
Stay connected
Another piece of advice from the same guide reads "Even though it might be difficult to see friends and family it is important that you stay connected to them on a regular basis". God knew how important that was going to be for His own "family" –
"not neglecting to meet together, as is the habit of some, but encouraging one another, and all the more as you see the Day drawing near". (Hebrews 10 verse 25)
Help others
This was another item on the list. There's little more draining than being wrapped up in yourself and your own needs. God didn't design us to live that way. When we help others it's a win-win, it makes both us and them feel better.
"Let each of you look not only to his own interests, but also to the interests of others". (Philippians 2 verse 4)
The focus should not be on ourselves. Making ourselves feel better may be a good starting point, but consider what Jesus said in the Sermon on the Mount:
"Let your light so shine before men, that they may see your good works and give glory to your Father who is in heaven." (Matthew 5 verse 16)
Also think on what Paul said to the Corinthian church: "Let all that you do be done in love." (l Corinthians 16 verse 14)
The study verses below are available as a downloadable pdf for you to keep handy and meditate on in your quiet time with the Lord. I pray that God's Holy Spirit will highlight particular verses for you to pay most attention to yourself.
Emotional and mental health Bible Study
Here are a few Bible verses to reflect on, perhaps stay with one for a while and pray and think it through. One thing struck me particularly, how often thanksgiving is mentioned, so often, in fact, that we almost pass the word by without noticing it. I'm convinced that it's so important that if we only take one thing away from the verses, and act on it, learning to appreciate things and thank God for them is one thing that will transform our ability to cope in adversity and in the face of all that is thrown at us via the media.
Even if these Bible passages are so familiar to you that you can recite them all by heart, it's still a valuable exercise to take time to reflect on them and think around them. Look them up and read them in the context of the passages around them to gain greater insight.
Scriptures relating to prayer and thanksgiving
"Have no anxiety about anything, but in everything by prayer and supplication with thanksgiving let your requests be made known to God and the peace of God, which passes all understanding, will keep your hearts and minds in Christ Jesus." (Philippians 4 verses 6 and 7)
"Continue steadfastly in prayer, being watchful in it with thanksgiving." (Colossians 4 verse 2)
"As therefore you received Christ Jesus the Lord, so live in Him, rooted and built up in Him and established in the faith, just as you were taught, abounding in thanksgiving." (Colossians 2 verses 6 and 7)
Scriptures relating to faith instead of fear
"Trust in the Lord with all your heart, and do not rely on your own understanding; in all your ways submit to Him, and He will make your paths straight." (Proverbs 3 verses 5 to 6)
"But you, dear friends, by building yourselves up in your most holy faith and praying in the Holy Spirit, keep yourselves in God's love as you wait for the mercy of our Lord Jesus Christ to bring you to eternal life." (Jude 1 verses 20 and 21)
"God is our refuge and strength, an ever-present help in trouble." (Psalm 46 verse 1) Read the whole of this psalm when you have time.
Antidotes to combat anxiety
"Have no anxiety about anything, but in everything by prayer and supplication with thanksgiving let your requests be made known to God and the peace of God, which passes all understanding, will keep your hearts and minds in Christ Jesus." (Philippians 4 verses 6 and 7)
"But the Lord is faithful; He will strengthen you and guard you from evil." (ll Thessalonians 3 verse 3)
"Cast all your anxiety on Him because He cares for you." (l Peter 5 verse 7)
"The steadfast love of the Lord never ceases, His mercies never come to an end; they are new every morning; great is thy faithfulness. 'The Lord is my portion' says my soul, 'therefore I will hope in Him'." (Lamentations 3 verses 22 to 24)
"Therefore I tell you, do not worry about your life, what you will eat or drink; or about your body, what you will wear. Is not life more than food, and the body more than clothes? Look at the birds of the air, they do not sow or reap or store away in barns, and yet your Heavenly Father feeds them. Are you not much more valuable than they? Can any one of you by worrying add a single hour to your life?" (Matthew 6 verses 25 to 27)
A healthy spiritual lifestyle (a summary)
Love – "Walk in love, as Christ loved us and gave Himself up for us, a fragrant offering and sacrifice to God". (Ephesians 5 verse 2)
Faith – "Whatever you ask in prayer, believe that you have received it, and it will be yours".(Mark 11 verse 24)
Obedience – "Anyone who loves me will obey my teaching. My Father will love them, and we will come to them and make our home with them". (John 14 verse 23)
Prayer – "Pray in the Spirit on all occasions with all kinds of prayers and requests". (Ephesians 6 verse 18)
Thankfulness – "Let the peace of Christ rule in your hearts, since as members of one body you were called to peace, and be thankful". (Colossians 3 verse 15) When you have time, read the whole of that passage from verse 1 to verse 17.
Do everything as serving the Lord – "Whatever you do, work heartily, as serving the Lord and not men". (Colossians 3 verse 23)
Do everything in the name of Jesus – " And whatever you do, in word or deed, do everything in the name of the Lord Jesus, giving thanks to God the Father through Him". (Colossians 3 verse 17) Did you notice that "giving thanks" in there again?
Hold fast to Jesus – "… holding fast to the Head, from whom the whole body, nourished and knit together through its joints and ligaments, grows with a growth that is from God". (Colossians 2 verse 19)
For further reading:
The armour of God – Ephesians 6 verses 10 to 18
The Sermon on the Mount – Matthew 5 to 7
Psalms – 145 to 150